Larsen trap, Magpie Trap / Crow Trap combination either twin top entry for catching magpies OR twin side entry for catching crows, rooks, jays & jackdaws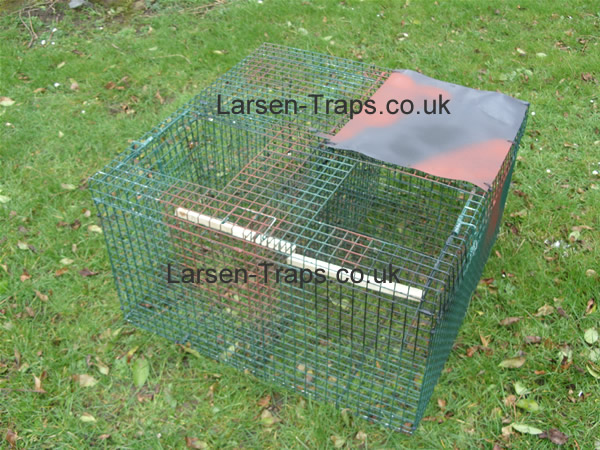 This is a brilliant brand new design magpie trap / crow trap combination, it has either double side entry for crows or double top entry for magpies. Half the trap is used for the call bird and the rest is divided into two catching cages. Now available with cammo finish to blend into the countryside, less conspicuous & easily hidden under trees or hedgrows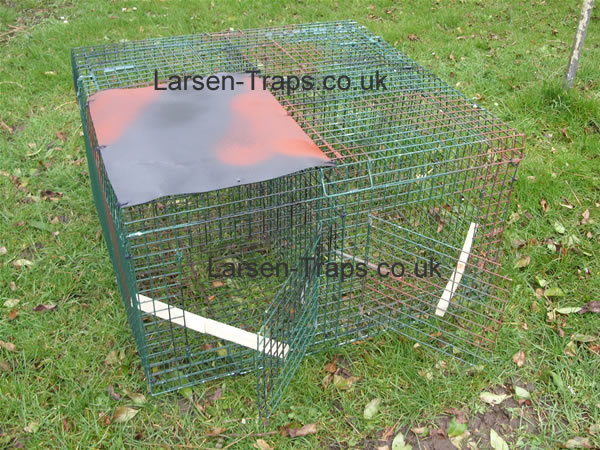 Change over from the magpie trap to the crow trap is a simple operation taking no longer that two minutes
The trap folds down flat and comes complete with two decoy perches and a set of split perches, simple to understand instructions
This larsen trap design addresses all the previous problems associated with the larsen trap i.e. storage, transporting, longevity. Made from inch square 12gauge welded mesh, this larsen trap is no lightweight that rusts away in the first year of use it will last for many years, now available with a cammo finish will last even longer.
Two traps can be used back to back utilizing one decoy bird in the decoy compartment and 4 top entry capture cages plus an additional two side entry capture cages thus giving a true multi catch trap with similar catching potential as a multi catch crow ladder trap.

Setting up is simple, place the trap on the ground with the sprung catching doors at the top, unclip the two ties, grip the two top panel handles at each side and gently lift the trap up to its full size of 18" x 30" x 30", give it a good shake to engage the panels, fit the plastic ties (supplied) to all the abutted panels and finally fit the decoy perch under the rain shade and the other perch opposite it so the call bird decoy crow or magpie will hop between the perches, this will attract other birds to your cage.
That's it !, set the spring operated doors with the split perches....your ready to catch......less than five mins from receiving the trap......your ready to catch your first magpie or crow.
Trapping must be carried out for a purpose, not just because you dislike the birds.
In the UK you will require a licence to use these traps, available from Natural England , please read it & follow the licence to the letter, don't come crying to me if you don't