Larsen-Traps.co.uk supply just three designs of Larsen cage traps in two sizes, all are normally held in stock for quick delivery, the last thing you want is to wait weeks for the trap to arrive. We despatch orders via DPD couriers throughout Mainland UK & Europe, orders placed before 11am Mon-Fri are normally despatched the same day for two working day delivery OR if requested next working day delivery.
What's a Larsen ? there's no such thing as a larsen, the trap is named after the trap's inventor, its now a generic name for cage traps that catch all the corvid bird species, crows, rooks, magpies, jackdaw & jay.
Many different designs of larsen traps exist we just cover the most popular & legal types.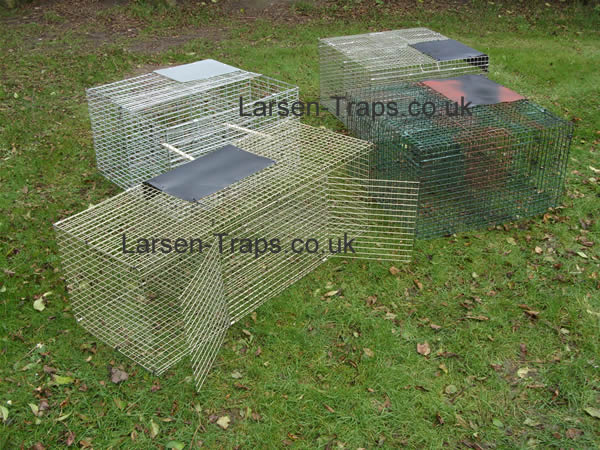 Crow trap, double catch side entry trap for crows rooks & jays with a central decoy compartment.
Magpie trap double catch top entry for magpies with a decoy compartment behind the two catching cages.
Magpie trap / Crow trap combination either double catch side entry for crows, rooks & jays OR double top entry for magpies, with a decoy compatment behind the two catching cages.
Trapping must be carried out for a purpose, not just because you dislike the birds.
In the UK you will require a licence to use these traps, available from Natural England , please read it & follow the licence to the letter, don't come crying to me if you don't